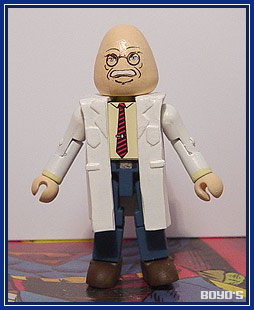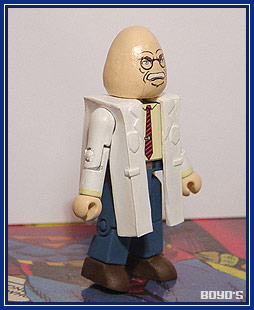 Elihas Starr (nicknamed "Egghead") was a brilliant scientist who was caught selling government secrets. Disgraced, Egghead turned to crime and began feuding with the Hank Pym in his identity of Ant-Man. Unable to win against Pym, Egghead began to take the defeats personally, and began to swing between very personal attacks against Pym and wild, world-conquering schemes.
Eventually, Egghead was able to take revenge while Pym was disgraced and on trial for treason. Egghead used a super-villain gang to free Pym from prison, staging it to make the jail break look like Pym's idea. Egghead then forced Pym to create an anti-aging device, but Pym fought back by creating a weapons system that allowed him to defeat Egghead's goons. Enraged, Egghead was about to shoot Pym in the back when Hawkeye shot an arrow into the gun's barrel, causing it to explode and killing Egghead. All of the king's horses and all of the king's men couldn't put Egghead back together again.
The Recipe
Egghead is made from a repainted Minimate. His unique head is made from a regular Minimate head modified with Sculpey. His face is a water-transfer decal, while his clothing details are made from a digital printout. Egghead wears a lab coat from the first Bruce Banner Minimate.
Originally posted June 2009