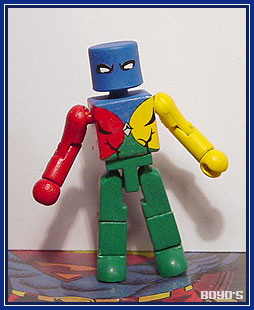 Doctor Spectrum has been the name of many different people, but for this custom, we'll just concern ourselves with the first one.
When the alien Grandmaster assembled a team to battle the Avengers, he chose Kenji Obatu and gave him an alien gem called the Power Prism. The gem gave Kenji the ability to fly and produce and fire great amounts of energy. Taking the name Dr. Spectrum, Kenji battled Iron Man and was defeated. Later, Doctor Spectrum returned for a rematch, but was again defeated when Iron Man destroyed his Power Prism.
The Recipe
Doctor Spectrum is made from a repainted Minimate. His chest details are from a water-transfer decal.
Originally posted July 2009